Virtual Choir - Amazing Grace
Virtual Choir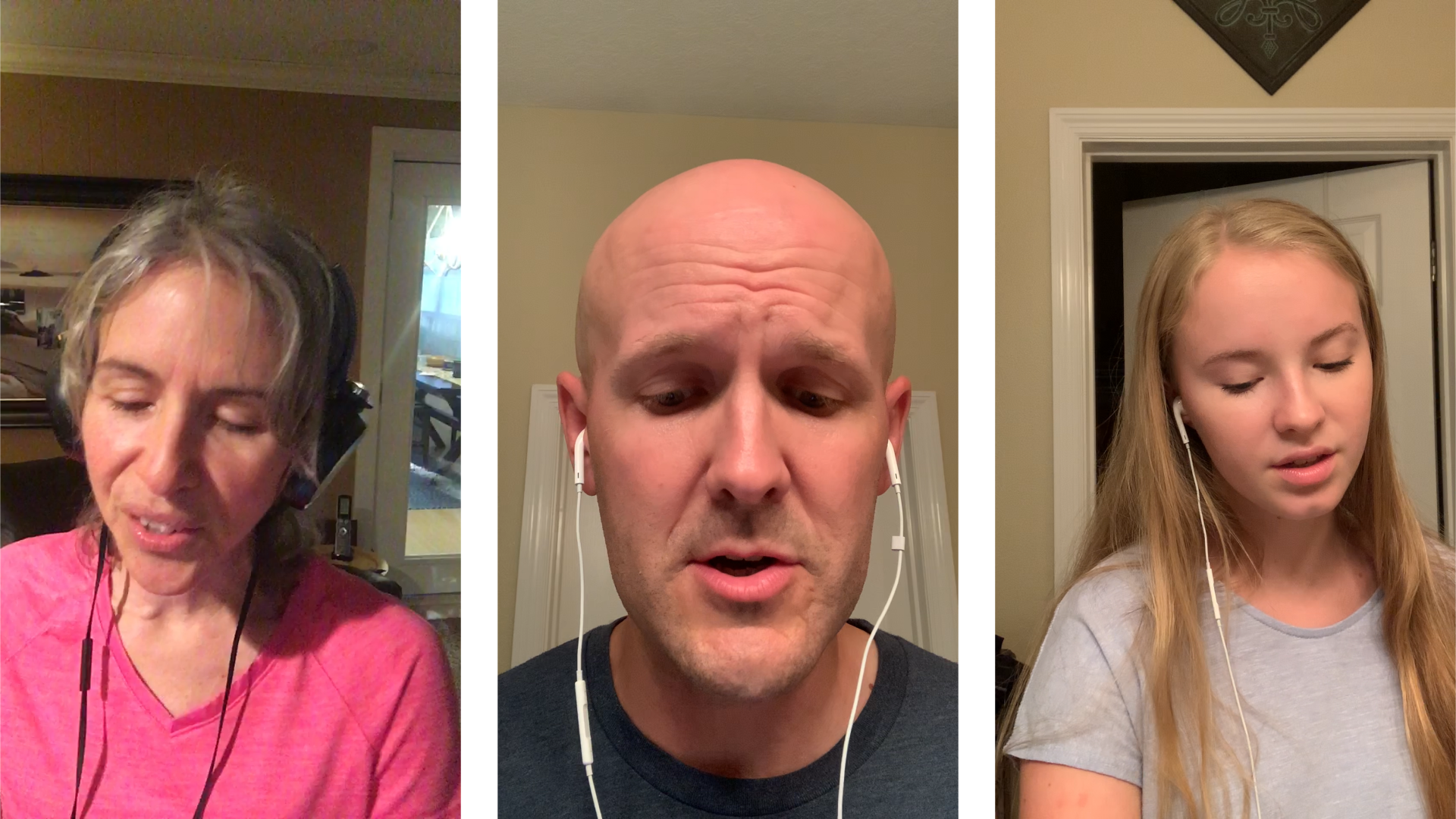 Welcome to the Virtual Choir page! Here is where we have a song that we want everyone to sing from the comfort of your own home. But there's a twist! We want you to video record yourself singing it to add to a virtual choir of the entire Central Church of Christ!
RECORDINGS ARE DUE BY 11:59 PM ON MAY 23.
We're starting off with Amazing Grace. Below are backing tracks, with and without vocals. Choose the ones you want. We are only singing verses 1,2,4,6. (Links open to a new page)
PLEASE LISTEN TO THE RECORDINGS BEFORE ATTEMPTING TO RECORD FOR HOW LONG THE HOLDS AND RESTS ARE
Music
Full Song - Without Vocals
Soprano - With Vocals | Without Vocals
Alto - With Vocals | Without Vocals
Tenor - With Vocals | Without Vocals
Bass - With Vocals | Without Vocals
Sheet Music - 1 Page Per Sheet | 4 Pages Per Sheet
How it Works
In short, you'll record your video while simultaneously watching and listening to a guidance track through your headphones. The guidance ensures you'll be lined up with everyone else, and the headphones ensure that we just get your voice in your track and nothing else.
What You'll Need
TWO DEVICES: You'll be recording this with a phone or tablet, but you can't record your audio while listening to the guidance track, so you would need to have a second device so that you can listen to the guidance track on one and record on the other. Make sure to prop your device up, so you don't have to hold it the whole time.
A PAIR OF HEADPHONES to listen to the guidance track.
A QUIET ROOM free of external noise. Turn off anything that hums or buzzes, like fans, air conditioners, or heaters.
DRESS FOR SUCCESS. Wear something that you want to be recorded! Ideally solid colors without images/logos.
PLEASE NOTE THAT THE FOLLOWING INSTRUCTIONS ARE ONLY FOR ANDROID OR IPHONE DEVICES. WINDOWS OR MAC TABLETS ARE NOT INCLUDED. ASK FOR FURTHER INSTRUCTIONS WITH THOSE DEVICES.
Instructions to Record
Set up your recording device (phone or tablet). Prop it against something, hold it, get a tripod - however you want to do it, but make sure you're fully in frame and not too far away. Orientation of the device doesn't matter. Load up your recording software. It'll be with your camera, if a tablet or a phone.
Load up the guidance track on your listening device, but don't play it. Set the track to the beginning, if it has started playing.
Plug in your headphones to your listening device.
Tap record on your recording device.
Tap play on your listening device.
Sing along! DON'T STOP YOUR RECORDING UNTIL THREE SECONDS AFTER THE GUIDANCE TRACK ENDS! THEN SAY YOUR NAME.
Once the recording is done, load up your browser and go to WeTransfer.com/upload and tap the "I agree" button (if it pops up).
Tap the blue circle with a white + to add your file.
Android or Kindle:
If a popup asks if you'd like to allow the browser to take pictures and record video, ALLOW it.
Choose Files.
Your video should be the top item. Tap the video file. Go to Step 11.
iPhone:
Tap "Photo Library".
Find "Videos" and tap it.
Select your recorded video, which will put a blue checkmark in the lower right-hand corner of the video thumbnail.
Tap Done in the upper right-hand corner.
Under Message, enter your name and part. Then, tap Next.
On the next screen, there will be two options. Just click Next.
Email to jebrca@gmail.com
Enter your email where requested.
Tap Transfer.